In the era where 80% to 90% of ALL hematopoietic tumors in pediatrics are cured, we shall aim at saving the remaining 10% of patients by eradicating the disease completely.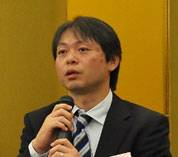 Dr. Toshihiko Imamura, Lecturer of the Department of Pediatrics, Graduate School of Medical Science, Kyoto Prefectural University of Medicine
Voices from award winners
Dr. Toshihiko Imamura won the Heisei 25 (2013) Credit Saison Award with the research theme of " Functional analysis of novel fusion genes involved in the development of IKZF1 deletion-positive acute lymphoblastic leukemia"Here is the remarks at the time of winning the Heisei 25 (2013) Credit Saison Award of the Japan Leukemia Research Fund

"Nineteen years have passed since I started to be involved in pediatric oncology. I have been researching acute lymphoblastic leukemia (ALL), which frequently occurs, especially in children among all childhood hematopoietic tumors. Thanks to the outstanding advancement of treatment for childhood ALL, 80% to 90% of patients can be cured these days. I now feel that we have finally reached a stage where we may be able to eradicate these hematopoietic tumors. However, the remaining 10% of patients cannot be cured, even with the current medical technology.

I have been involved in gene analysis of childhood ALL for a long time. The theme I submitted for this award is research of a type of leukemia that lacks a transcription factor called "IKZF1" and has a less favorable prognosis. Having examined those leukemia genes thoroughly, I have finally started to discover an abnormality that may serve as the target for the treatment.

Having hoped to leverage this treatment finding, I decided to apply for this award with the research theme, of the analysis of such gene functions. The theme successfully won the award. Yesterday I looked at past winners of this award. I noticed that this award has been given to a number of highly considered leukemia researchers whom I truly respect or those who are current research leaders. Having seen the list of past winners, I truly feel inspired to contribute further to leukemia research going forward. I will continue to make an effort to contribute to the advancement of leukemia research by collaborating with many senior doctors and other colleagues."